Hint: It's not getting any easier!
Consumers have more ways now than ever to manage their money securely, whether that's with a community bank, a fin-tech, a big bank, or a credit union. That said, we must think not only strategically on ways to increase deposits, but we must also think about what's in it for our customers. Bank product development is playing an increasingly important role in serving bank customers, both from a retail banking and a business banking standpoint. As banking transformation continues to take hold, you must be asking yourself how you can better serve your customers' needs. Here are 3 quick ideas to help you start brainstorming:
1. Business Interest Checking
Ask yourself, is it more profitable to offer a premium rate on a CD or on a high balance, medium transaction account for a company that could drive credit and non-interest income for your bank? (I know what I'd do ...)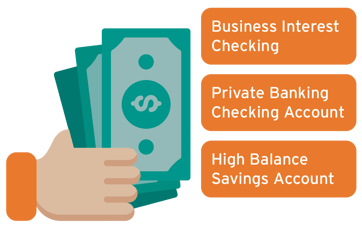 2. Private Banking Checking Account
A high balance account for the qualifying high net worth customer, where in exchange for large deposits a customer often receives premium interest rates, an unsecured line of credit, and a concierge level of service. (Cue the relationship-building and cross-selling tactics.)
3. High Balance Savings Account
As an alternative to the fixed-rate, fixed-term CD, consider a savings account with a high rate that commands a large balance, but can adjust based on balance tiers and the rate environment. (Flexible and safe. You might even consider a $10,000 or $15,000 minimum deposit.)
Mills Marketing helps financial institutions develop products that meet their customers' needs by combining data-based tactics with strong branding, and intuitive creative.
Have questions or want to find out how to partner with Mills Marketing? Please contact us, or email us directly at inquiries@MillsMarketing.com