This message may seem out of character, especially to those who know we're the biggest advocates of data-driven decision-making there is.
That said, we're all in for going fishing with a full tackle box, which includes creating experiences that you know your customers will respond to. Here are three ways to monetize what you already know your customers want.
#1 Secondary data may not tell you everything, but it may tell you enough.
For example:
Data Point
According to Raddon Insights, nearly 70% of business owners have personal and business accounts at their company's PFI.
Action Steps
1. See if your FI is in the ballpark of 70%.
2. If not, set your penetration goal to 70%. If you're already at or over 70% go higher.
3. Meet in person with every business-only customer on that list in the next quarter to cross-sell the missing relationship.
Secondary data also helps you put the odds in your favor. Here's another example: Like everyone else you need deposits, so where are they? The chart below tells us the deepest pond to fish is Business Savings with a 47% usage rate.
Ask yourself: Would you rather pay your best rate to a single-service CD customer or a profitable business client? Not a tough call.
Data Point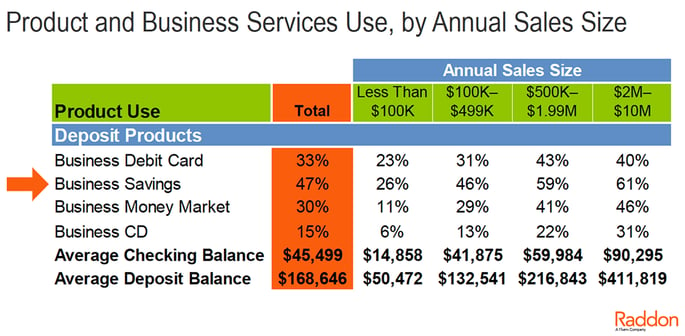 The table above displays a combined database of the past three years (2019-2021) of small business research from Raddon.
Source: Raddon Insights, "Small Business Insights: Expansion and Opportunity," 2022. Raddon is a registered trademark of Fiserv, Inc.
Action Step
Offer tiered rate business savings options or a bonus rate for 6 to 12 months. Easy. Efficient. Effective.
Secondary data can even help you re-imagine your branches.
Data Point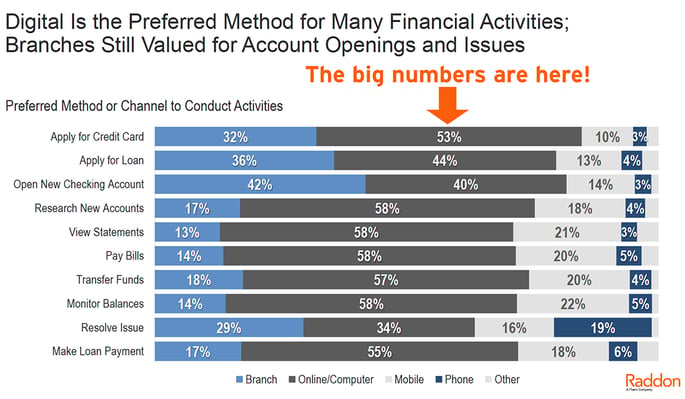 Source: Raddon Insights, "Small Business Insights: Expansion and Opportunity," 2022. Q: What would be your preferred method or channel to conduct each activity listed below for your business? (n=1,200). Raddon is a registered trademark of Fiserv, Inc.
Action Step
Create a DIFY (Do It For You) team to roam between branches and provide concierge online banking and mobile banking assistance as well as serving as a new Customer Switch Team.
---
Our thanks to Raddon, a great research partner we've used for decades.
---
#2 Stop ignoring your data.
By putting their money in your hands, your customers have made a commitment to you. Return the favor. Here's a great lesson in being attentive:
Data Point
We all thought the CD was on life support, but rising rates triggered a quick resuscitation. For example, Marcus by Goldman Sachs fired up its CD Maturity Center, a veritable buffet of how to add to your CD, close it out, change terms, withdraw interest, and more.
If you close out the CD, you're handled with kid gloves; periodic check-in emails to inform and reassure you that you're getting your money moved exactly the way you want.
Then, they make a compelling counteroffer, e.g., a penalty-free CD option.
In short, Marcus recognized that it feels good to be treated well, and positive experiences can lead to a deeper – and future – relationship.
Action Step
Think about it. If a CD was stable throughout its term, it's probably not a flight risk for a second term and if that happens, consider offering a rising rate option.
#3 Strongly encourage your team to bank with you … AND someone else.
The first will give you more immediate feedback on wins and glitches with your processes. The second will give you competitive intelligence about issues large and small.
Look at this helpful email Citi sent when one of our team members had to replace her card ...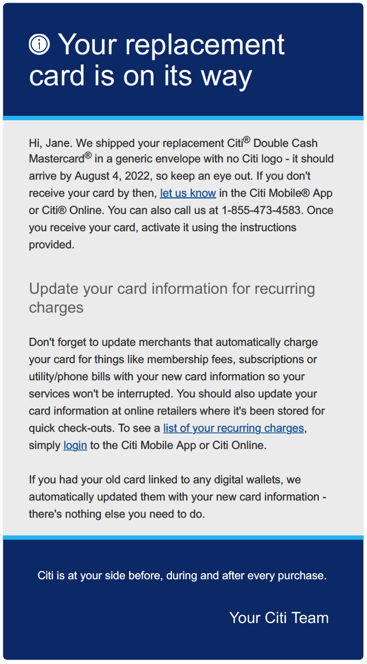 Action Step
Make "Bank-Where-You-Work" a cultural pillar. Remember, knowing real-time user experiences will help expedite trading in your historical "the way we do things around here" to a "the way you want things" mentality.
We could go on, but you get the idea. Complement these three obvious and pretty easy-to-execute tactics with your more complex deep-dive persona and workflow projects, and you'll enjoy a powerful, personal impact on the people who most deserve it – your current customers.