Your customers are comparing your mobile banking app experience to shopping on Amazon®. Your CEO wants a digital transformation plan up and rolling. Now. And your lenders want a mortgage campaign and a Treasury Management video by noon tomorrow.
While just about every facet of banking has been disrupted in the last five years, the resources needed to support these changes are in serious need of inspection. COVID's chilling effect on traditional event and PR management, along with channel diversification from mass media and hard copy collateral, are just two symptoms of potential misalignment between capabilities and needs in your marketing department.
My point is, your marketing team needs to be equipped to meet today's challenges. Here are three steps (fair warning, these are big steps) to help you do that.
1. Identify your capacity in these six critical marketing roles.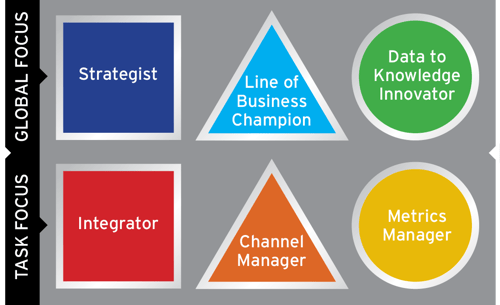 This chart looks innocuous but after using it extensively, I can assure you it's full of insights.
For example, the top row of roles is global and strategically focused. If your financial institution (FI) is still using marketing as just arms and legs, you may not have anyone filling some (or all) of them.
Your Strategist needs to be at the senior management level and your Line of Business Champion needs to fully understand all your lines of business. Every FI is sitting on a treasure trove of data. Our country's largest FIs sift and sort their data to drive some of their most consequential decisions. Filling the green circle is your biggest marketing challenge. And your biggest opportunity.
Roles in the bottom row are tactically focused. Your Integrator manages partners and projects. Your Channel Manager has the responsibility for omnichannel experience management and budgeting ad spends. Your Metrics Manager is key because defining success still remains murky at many FIs, and efficient use of resources is non-negotiable today. Now, you're ready to go to work.
Start where you are. A role could be filled by one person, and that same person may be contributing or owning several other roles. So, each of the six areas can be filled with any combination of:
One person

Several members of the internal FI team

A team of bankers and outside partners

An outside partner/partnership
If you discover the same person is the sole owner of most of these roles or you have no one spending much time in one of them, it will help you see where you have gaps to fill.
Use this responsibility roster to help you with step one:
GLOBAL-FOCUSED ROLES

Strategist
Executive level; involved in strategic planning
Relevance and synergy advocate
Marketing/PR planning oversight
PR crisis management
Objective is to stimulate demand

Line of Business Champion
Gather and prioritize line of business customer and market needs based on line of business goals
Objective is to service line of business needs

Data to Knowledge Innovator
Leverage CRM, internal and external research; data mining
Evaluate marketing and financial metrics
Monitor alignment of goals and results
Objective is to help team make smarter decisions
TASK-FOCUSED ROLES

Integrator
Internal and external partner management
Brand champion
PR manager
Marketing planning and budgeting
Creative brief development
Objective is to execute financial performance-supporting initiatives

Channel Manager
Optimize and align channels to appropriate initiatives and targets
Determine onboarding, customer communication, and prospect vehicles
Objective is to optimize communication effectiveness, and efficiency

Metrics Manager
Manage customer, product and relationship data; create dashboards and disseminate ramifications
Monitor key activity
Create, maintain and distribute marketing dashboard
2.
Indicate the level at which each role is currently filled and put a clock on getting them all fully functioning.
Odds are, you're going to find some gaps in how some of these functions operate. So now you sit down with your CEO and HR, and decide how to get each function up to speed. With our clients we've found this process can take 18-24 months to complete. Keep in mind, partnerships can help accelerate your timeframe and give you time to see if you want to bring specific skill sets in-house down the road.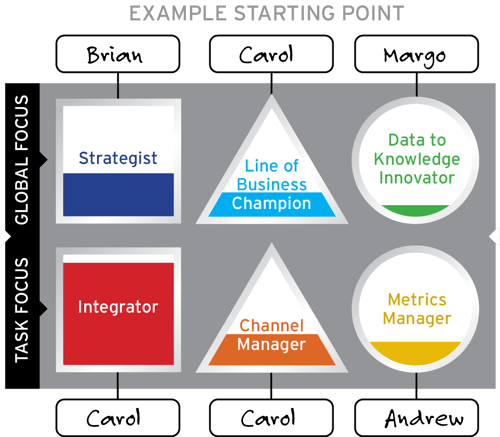 3. Follow these rules of the road.
Be responsive and accountable to performance goals.
If a marketing activity doesn't roll up to a goal, question why you're doing it!
Be strategy-driven; tactically supported.
Allocate resources for the strategies before the tactics!
Know your market, know your customers.
You have a gold mine if you do, and a dust bowl if you don't.
Align channels, messages and behaviors within your brand.
This discipline requires a To Do and a To Don't list!
Improve time-to-market.
Continuously. Relentlessly.