Using data to drive communications

.
When it comes to marketing, instead of spending hundreds of dollars to acquire a new account, consider spending pennies on the dollar to incorporate a personalized, automated, high-touch digital onboarding program into your digital banking strategy. Such a program builds a relationship with the account holder, reinforces your brand, and lowers attrition rates. As you plan and budget, you need to put just as much emphasis on welcoming new customers and new retail banking accounts as the effort to get them in the door.

But here is the hard part – how do you do it well? How do you meet the customers' expectations, get them using their account, and obtain primary financial institution (PFI) status? It starts with data. A lot of it. You must personalize your automated onboarding communications. This means more than simply adding a name field into an email. It means adding account types, usage flags, and status details, all of which needs to happen DAILY through automated data transfers into your marketing automation or email marketing platform!

So, what does a customer experience-focused, successful, automated digital onboarding program look like? It is not a 4 touch-point program over the course of 90 days that runs once a week. It is not a program that welcomes a new customer and then immediately starts trying to cross-sell to them. It is a program that helps the new account holder through their new account; one that walks the account holder through activating their specific account features and products. And it's a program that is completely tailored to the customer and aligns to the financial institution's goals and strategies. And, it is primarily digital. You will incorporate email marketing as the primary marketing channel, while also bringing in landing pages, retail branch staff and/or customer service representatives, digital retargeting, and direct mail as capabilities, scope and resources allow.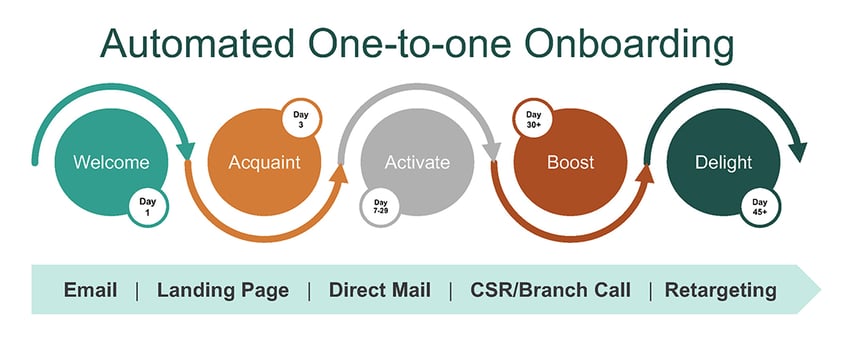 Welcome
Welcoming new customers to the Bank or new members to the Credit Union is easy! Say hi. Thank them. Establish a precedent for future communications. These welcome messages must be sent same-day or next-day after new account opening. You must prepare content to satisfy all retail account types, which can be accomplished by creating multiple separate email messages, and/or by utilizing dynamic content. Whatever the method, the most important part is being able to serve the new customer or member with the details of their account and relationship with your financial institution.
Acquaint
A few days after welcoming your new account holder, you should help them become acquainted with their new account and with the resources available at the financial institution. New account holders are very engaged in their new financial institution's messages about their new account. It may be too early to know if they have set up direct deposit yet, but you can acquaint new account holders with online banking, share informational videos, tutorials, and resources. And you can supply the new customer with a to-do list of items they'll need to make their account fully operational.
Activate
Here's where your customer data can really be put to good use. This is also where you tackle attrition rates and create a long-term relationship. Over the course of about 3 weeks, after you've welcomed and acquainted the new account holder to the bank and to their account, you focus on activation. These are data-driven communications. You do not need to present more information on eStatements if the account holder has already signed up for eStatements, you lean on your data to tell you which activation communications this individual should receive next. There is some strategy to incorporate here since you should prioritize activation products or services based on the stickiness, the bank or credit union's initiatives, and the importance of the service to the customer or member.
Boost
After about a month, it is the perfect time to ask the customer or member about their experience. You can ask about their experience opening the new account with a survey. You can solicit the individual to leave a review and encourage following the bank or credit union on social platforms. Let us boost this relationship while it is still hot because new customers and members are most highly engaged with digital communications through the first 60 days.
Delight
This is the final stretch of the honeymoon period, NOW you can start introducing additional products and services that are relevant to the account holder. You can delight them in all of the ways your financial institution can support them with managing their finances and future.
In the end, you could very well end up with 8 to 12 touch points or communications per account holder during the onboarding process over those first 60 days. And that should not worry you. Not only is it expected with a new relationship, but the engagement rates on email and digital resources in those early stages continue to perform well above standard benchmarks. Of course, creating this data-driven onboarding strategy is not a small undertaking, but in today's competitive environment it is so very important to get it right for your customers or members and for your financial institution.
Ready to take your onboarding program to the next level? Contact us today to learn how we can help you strategize, develop and automate a digital onboarding program that sets your bank or credit union apart from the rest.