Each year Bank Director sponsors a number of conferences to inform bank directors and senior leaders on a variety of topics. The Acquire or Be Acquired (AOBA) Conference is my favorite. Billed as "The Financial Industry's Premier Growth and Strategy Event," it lives up to its name. Don't let the name fool (or intimidate) you. While the sessions do spend time talking to the economics, supply/demand and best practices of M&A, its speakers are bankers, at the highest level, and topics range from digital transformation and capital planning to the future of Community and Regional Banking.

In all things education, I'm a front-row, diet Dew-drinking, note-taking nerd, so here are my favorite one-liners from this massive 3-day event.


DISCLAIMER: The following are my personal takeaways and your situation or perspective may be very different. Enjoy!



Let's start with M&A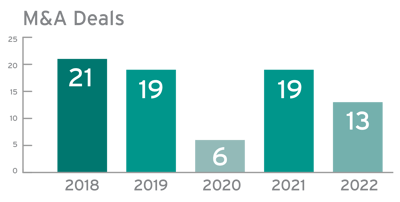 Culture is the key
81% of bankers feel cultural integration is the biggest concern after an M&A deal; in some cases, a Buddy Banker System has proven effective to help merge cultures.
Common comment: "M&A has the potential to create a weak culture if not managed well."
Captain Obvious
Post-transaction integration — small glitches don't get better with time. Fix stuff now.
My biggest general "ahas" for M&A
90% of an M&A transaction price is non-negotiable, so the last 10% of expense and/or giveaways are disproportionately important.
From one astute banker: "In planning your acquisition, assume you're getting sued. CRA issues and external complaints have become abundant."
Now on to other things:
Just when you thought you knew everything
Know the difference between omni- and multi-channel

Multi-channel: when you switch channels, you start over
Omni-channel: when you switch channels, you don't lose your place
(35% of FIs mistake omni for multi)

$350K is the average cost to run a branch annually
What 3 big players are up to
Know Your Customers: Look for ways to streamline some of the processes and procedures for your top customers while staying in compliance
Be Aware of Square® — their cash app has:


36M active users
7 debit cards

From Visa® — "we are a working capital company" is part of their new branding
Important data points for your next big meeting
Shadow Banks (non-chartered) lead most lending categories (consumer credit and residential)
4 banks control 40% of all deposits
The average person has 3.3 financial services apps
We are at the lowest tax environment in our lifetime
$1T is sitting outside the system – sitting on cards like Starbucks® and Panera®
Fintech solutions to OD:




Gulp
We are going through the most drastic tightening cycle in modern history
Debt-to-GDP 120%
"Too big to Fail" is now "Too big to Manage" — divestiture implications due to current mood in Washington
Favorite quotes
"Banks have Cheesecake Factory® menus, we need an In-N-Out Burger® menu." — Derik Sutton, Autobooks®
From David Sandler of Piper Sandler: "The greatest exogenous threat is the ability of non-banks to acquire customers on the deposit side."
Exogenous definition — relating to or developing from external factors.
On Open Banking … "We spent years complying with Gramm-Leach-Bliley Act to lock down data and now they want to open it up for fraudsters to play with." — Bill Demchak, PNC
Two best pieces of advice
Do less forecasting and more testing.
Take measured risk; taking no risk does not serve your bank well.

And finally …
My own humble opinion: Make M&A a line item in your board/senior team meetings. You don't have to be actively looking to buy or sell, but you need to stay current about what opportunities/challenges are currently happening in this arena, and how it might affect you.

Cheers!
Becki